Episodes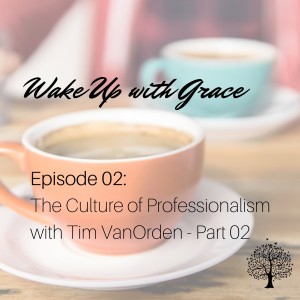 Monday Jul 16, 2018
Monday Jul 16, 2018
My guest today is Tim VanOrden from the YouTube channels Running Raw, A Mind In Motion, and Start Here.
Tim is a nationally recognized coach, speaker, author, and athlete who in addition to winning 10 U.S. masters running championships, has also won the U.S. Snowshoe Championships, he was the top American at the World Stair Climbing Championships, and he's been named the U.S. Masters Runner of the Year 4 times. His work focuses on helping individuals reach their full potential, without willpower, discipline, or being a badass. If you are feeling stuck and can't seem to get yourself into action, or you can't take the steps necessary to achieve your goals, Tim can help. Visit Tim's website for more information on his Compassionate Coaching services.
This is part two of our discussion on professionalism and emotion in the workplace.  Be sure to check out part one here. 
I had such a great time speaking with Tim! In fact, we were having so much fun we ended up talking for almost two hours. I have broken our discussion down into 2 podcast episodes so we can fully explore this fascinating topic together.
I hope you enjoy the second episode in this series! Be sure to check out the video that inspired it all.
xoxo - Grace
Monday Jul 09, 2018